Capsicum Chutney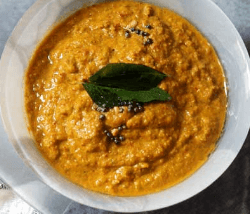 This is one of my grandmother's recipes and frankly I have never tasted capsicum chutney as good as this. This chutney gives tangy taste and a treat for chutney lovers.
Click here for more chutneys recipes.
Ingredients
1 kg capsicum, ribbed and chopped in pieces

¼ Kg tamarind

3 cups white or red vinegar

100 gm ginger, scraped

1 pod garlic, peeled

1 tablespoon mustard seeds, picked

1 dozen red chilies (dry)

A few green chilies

1½ cups refined oil

1-1-½  cups sugar

Salt to taste
Utensils
A karahi or heavy-bottomed pan, a strainer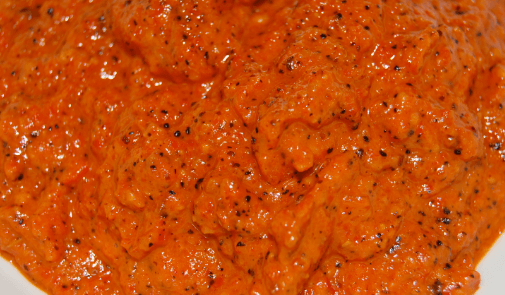 Method
Soak the tamarind in 2 cups of the vinegar. After half an hour, extract the pulp through a strainer and discard the seeds.

Grind the ginger, garlic, and mustard seeds, red and green chilies in the remaining vinegar.

Boil the oil. After it comes to the boil remove from the heat for a few minutes, then add the ground spices and salt. Fry 10 minutes.

Add capsicum, sugar and tamarind pulp.

Cook on a slow fire till the excess liquid evaporates and the oil floats to the top. This happens invariably; the chutney settles to the bottom and needs to be stirred to avoid burning and the oil forms a clear layer on top.

Cool, bottle and keep for a week before serving.