Curd Chicken/Dahi Chicken Recipe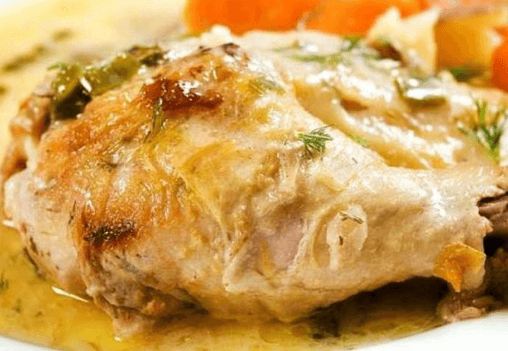 Lemony, piquant, garlicky, this is a mouth-watering preparation. Since this is a dry dish, plan to serve it with lentils or another curried accompaniment.
Ingredients
1 chicken, weighing about 700 gm, cleaned and jointed

200 gm slightly sour curd

2 small onions, ground

1 whole pod garlic, ground

1-1/2 piece of ginger, ground

2 teaspoons coriander powder

Red chili powder to taste

2 onions, sliced

Vinegar

1/2 teaspoon sugar

1/2 teaspoon salt

1 cup cooking oil

1-1/2 Limes

1-1/2 tablespoons fresh coriander leaves, finely chopped

Salt to taste
Utensils
A karahi or heavy-bottomed pan; another preferably flat-bottomed skillet; brown paper
Method
Pierce each piece of chicken well with a fork.

Mix together the next seven ingredients (curd, whole pod garlic, ginger, and coriander powder, and Red chili powder, onions (sliced and small). This is the marinade. Rub it well into each piece of chicken, pour an excess over and leave to marinate for at least 8 hours and possible, overnight.

Separately, slice the 2 onions and soak in enough vinegar to cover them. Mix in the salt and sugar. Keep aside. They would turn a delicate pink.

Put the chicken along with the marinade into a pan, cover and cook on a slow fire till the chicken has cooked and the liquids have all dried up. Take care that the chicken does not get overcooked and start breaking

Heat the oil. Fry the pieces of chicken in it, three to four at a time, till lightly browned all over. Drain.
Put the pieces on a serving dish and squeeze the lime juice over all of them. Serve garnished with the fresh coriander and the onion rings.
Serves 4
Note: If you are calorie conscious, omit step 5.