Easy and Simple Marinated Meat Recipe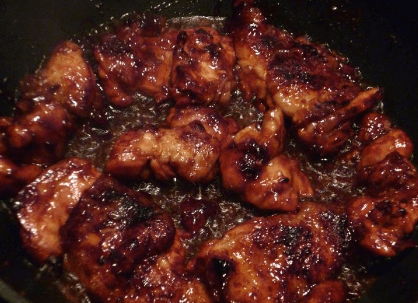 Yes, it is simple and foolproof and yet no less delicious than any other more laborious meat preparation.
Ingredients
½ kg meat, well washed

½ cups curd

1½ piece ginger, ground

5 cloves garlic, ground

1 teaspoon ground cumin

2 green cardamoms, roughly pounded or powdered

1-2 crushed cloves

2 tablespoons fresh coriander, finely chopped or ground

3 tablespoons cooking oil

2 cloves

2 onions, sliced

1-2 green chilies, deseeded and chopped

A pinch of ground cinnamon (optional)

1 teaspoon dried fenugreek leaves

Salt to taste
 Utensils
A pressure cooker; a pan to marinate the meat
Method
Beat the curds lightly and add to it the ginger, garlic, cumin, cardamoms, cloves, coriander and salt. Mix well. Add the meat and rub in the marinade well. Keep aside, preferable overnight (in the fridge if the weather is very warm) or at least for 4-5 hours.

Heat the oil in the pressure cooker. Add the cloves. Let them darken.

Add the onions. Fry golden brown.

Add the chilies, cinnamon and fenugreek. Fry a seconds.

Add the meat along with the marinade. If you want a dry preparation, add no water. If you want a curried result, add water according to how thin you want your curry-above cup should normally be sufficient. Close the pressure cooker and bring to maximum pressure. Lower the heat and keep 15-20 minutes or till the meat is tender and the curry is consistency you desire.
Serves 4
Note: For a variation, after frying the onions, chilies, cinnamon and fenugreek (steps 3 and 4), remove them from the oil and Keep aside. Into the same oil, put the meat and continue with the recipe. When the meat is cooked, add the onions and other ingredients and serve.