Gujrati Chopda/Choapda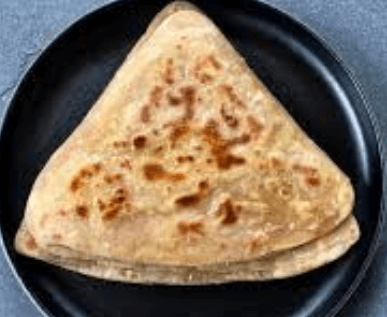 These are like paranthas, but less elaborate to make. It is a preparation from Gujarat.
You will need –
3 cups whole wheat flour

5 tblsp. oil

salt to taste

a mixture of oil and ghee in equal proportion for frying
Method:
Rub the oil in the flour, add salt and make stiff dough.

Knead well, divide into 15 balls. Cover and keep aside.

Heat a shallow frying pan or griddle, keep on medium heat.

Roll out one ball, to the size of your palm, apply a little ghee and oil mixture, fold it twice to make a triangular shape.

Roll out again into a thickish triangular size (approx. 1/4 inch thick or slightly thinner), put on the griddle and turn after a few seconds.

Shallow fry to a crisp golden colour with the ghee and oil mixture.

Serve hot, or keep warm in a warm oven till serving time.