Aloo Curry with coconut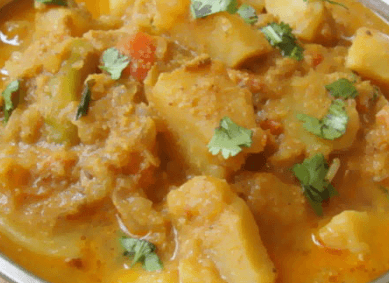 There are innumerable ways in which Indians make aloo curry. I am giving one way here.
You will need –
500 gms potatoes, 200 gms onions, 1 inch ginger, 10 petals garlic, 2 green chillies, 200 gms tomatoes, 1/2 cup fresh grated coconut, salt and chilli powder to taste; Oil.
Method:
Boil and peel the potatoes. Cool and cut in largish pieces; all except one potato. Mash the remaining one potato. Chop the onions finely; grind the ginger, garlic and chillies. Grind the coconut. Blanch, peel and chop the tomatoes. Heat 4 tblsp. oil and fry the onion in it till golden brown. Add a pinch of turmeric, ground-ginger-garlic chillies. Fry a while, and then add the tomatoes and coconut. Fry further, sprinkling water in between. When the tomatoes become pulpy, add the potatoes, salt and enough water to have some gravy. Add the mashed potato. Mix well, bring to a boil, boil for a few minutes and remove.