Cucumber Pickle, खीरे का आचार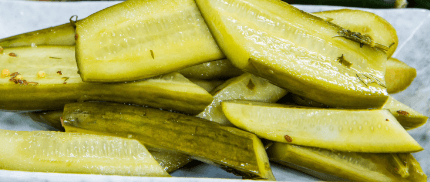 Cucumber contains 95% of water which make it hydrating and cooling food. The flesh of cucumbers is very rich in vitamin A, vitamin C, and folic acid, and the hard skin is rich in fiber and a range of minerals including magnesium, molybdenum, and potassium. Moreover, cucumber contains silica, a trace mineral that contributes to strengthening connective tissues.
Cucumbers prevent water loss from body and cucumber is often applied to burns and dermatitis. Cucumber is also ideal to heal many skin problems like, puffy eyes and sunburn etc.
Ingredients
12 fresh cucumbers sliced in length-ways and salted

3 onions sliced

½ bottle vinegar

½ cup sugar

1 tsp Pepper

1 tsp Mustard

1 tsp Powdered ginger

1 stick Cinnamon (daal chini )

Red chili powder

Salt to taste
Directions
First wash cucumber properly then cut it into slices in lengthways.
Now, soak cucumber slices in salted water for 6 hours.
Take a heavy steel pan and mix all the ingredients including cucumber slices together into the pan. Boil them all in for 10-15 minutes.
Now turn off flame allow it to cool and pour out into a glass jar.