Parotha, Prantha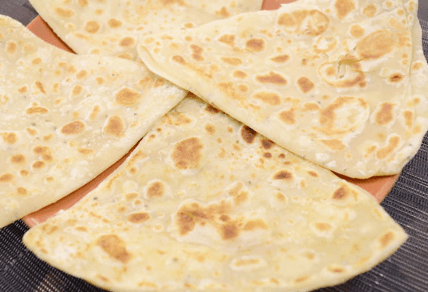 You will need –
2 cups whole wheat flour,

1/2 tsp. salt,

2-1/2 oil,

water,

Ghee for frying.

(Refined wheat four, commonly used for bread, cakes etc. is known as Maida. Some people use this for Parotha, but from the point of taste and nutrition, whole wheat flour is recommended.)
Method:
Rub the oil and salt in the flour, and add water to make rather stiff dough, knead well, cover and keep aside for at least an hour.

Divide into 8 balls, keep them covered. Heat a girdle on medium heat. Roll out one ball to about 4 inches diameter.

Smear with oil and a little flour on both sides. Make a slit from the centre to the edge. Lift from the slit and fold over a little portion to form a cone.

Fold the cone all around till you come to the slit again.

Holding the broad side of the cone and keeping the narrow point of the cone in the centre, press down to form a flat circle again.

Roll this again in a round, about 6 inches in diameter. Place it on the girdle and turn after a few seconds.

Now add a little ghee all around the edges and some on top. With a spatula, keep pressing lightly and turning till the Parotha/Prantha is baked evenly to a golden brown colour on both sides.