Lassi Recipe, Yogurt Drink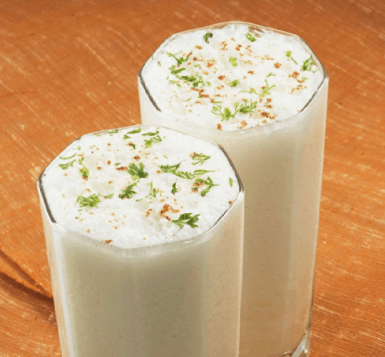 A favorite drink in the north particularly in the Punjab. It has all the cooling properties of curd though it is heavy too and so is efficacious not only in beating the heat but also in inducing a pleasant drowsiness.
Ingredients
For each serving you will need:

½ cup fresh curd

½ cup water

Sugar or salt and pepper to taste

2 cubes ice
Utensils
An electric blender, shaker or the traditional lota(a metal pot) and madani (a wooden, four-pronged stirrer)
Method
Put all the ingredients into the blender or shaker and blend well till frothy and well chilled. If you are using the more traditional method (and those who do insist that the lassi tastes better) put all the ingredients into the lota and blend well by moving the madani between the palms of your hands till the lassi is smooth and well-blended.
 Note: This proportion of curds to water makes a thickest lassi. If you prefer a thinner consistency, add more water or ice.