Mutton Goulash Recipe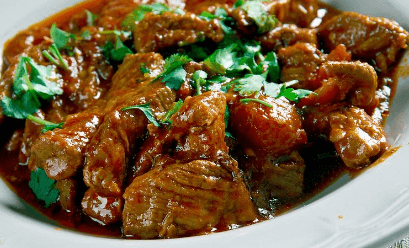 Ingredients
1 kg Mutton

300 gm tomato puree (or 40 gm ripe tomatoes and 1/2 cup tomato ketchup)

1/2 cup curd

4 tbsp butter

3 medium sized onions

6 lakes garlic

salt and pepper to taste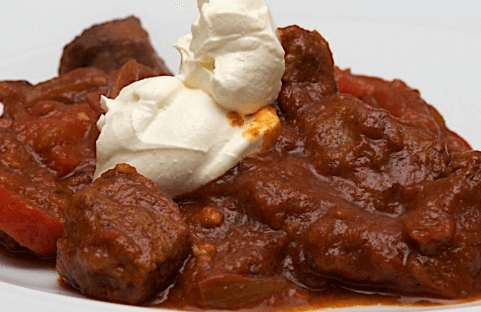 Method:
Melt half the butter in a heavy saucepan. Add chopped onions and fry on low heat till light brown. Remove the onions and keep aside.

Mix the salt and pepper, Cut the mutton in 1 inch cubes, dry the cubes and roll them in the salt and pepper mixture.

Add the remaining butter to the saucepan, add meat and brown well on all sides.

Return the onions to the pan; add crushed garlic and the tomato puree. (If you are using fresh tomatoes, blanch them and put through a mixer and a strainer to get the juice.)

Mix well.

Cook on very low heat, stirring occasionally

Cover with a heavy lid with water on top of the lid to prevent the mixture going dry.

No water should be required to be added, but you may add a little if it takes too long for the meat to get cooked.

When done, add lightly beaten curd or a mixture of 2 tbsp curd and 1 tbsp cream and simmer awhile, without boiling.

Now, remove from flame.

 The goulash should have thick gravy to go with the rice or the dinner rolls.