Mustard Fish Curry/सरसों मच्छी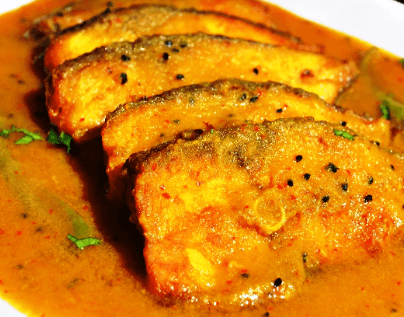 A sharp and delicious blend of flavors. It is best served with boiled rice and the friend who gave me the recipe insists that it is an insult to serve anything else with it.
 Ingredients
5 kg fresh hilsa, tangra, pabda, herring or rohu, cleaned and washed

2-3 tablespoons sharp mustard powder

½ teaspoon turmeric powder

100 ml water (2 glasses)

3 tablespoons mustard oil

½ teaspoon onion seeds

2 onions, finely chopped

4 green chilies, chopped

Salt to taste
Utensils
Any heavy bottomed pan with a lid
Method
Dissolve the mustard powder in the water and add to it the turmeric and salt. Keep aside for at least half an hour and longer if possible to allow the taste and flavor to develop.

Meanwhile, heat the mustard oil to smoking point, and then reduce heat and wait 5 minutes. Drop in the onion seeds. Stir.

After a few seconds, add the onions. Fry golden brown.

Pour in the mustard-water, and bring to boil.

Gently slip in the fish, cover and cook 5-7 minutes.

Check that the fish is cooked, then add the chilies, cover the pan again and keep on the fire another 2 minutes.

Before the fire is turned off, stir in the fresh oil.
Serves 4