Refreshing Lemon Rice Recipe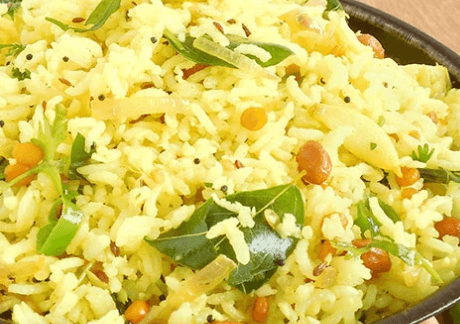 Refreshing Lemon Rice is a south Indian specialty and another one of those preparations that is quite complete by itself. At the most, serve some Curd.
Ingredients
15 cups rice, picked, washed and soaked in 3 cups water

7-8 curry leaves, washed and torn up

½ cup cooking oil

2 tablespoons unsalted peanuts

2 whole red chilies

A pinch of Asafoetida

1 teaspoon mustard seeds

2 teaspoons black gram

1 teaspoon rice, picked

A few green chilies (optional), deseeded and sliced

½ teaspoon turmeric powder

Juice of 4 limes

1 tablespoon raisins (optional)

1 tablespoon fresh, grated coconut (optional)

Salt to taste
Utensils
A pan to boil the rice; a karahi or heavy-bottomed pan; brown paper
Method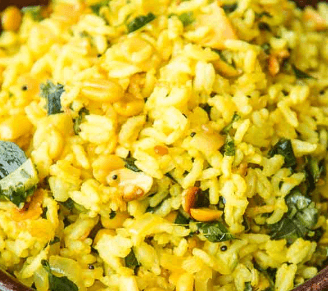 Boil the rice (see recipe for plain boiled rice) and keep aside.

While the rice is cooking, heat the oil and fry the peanuts golden brown. Remove from the oil and keep aside.

Take out and strain the excess oil, leaving only 3-4 tablespoons in the pan. In the same oil, drop the red chilies. Then they start to darken, add the asafetida.

After another second, add the mustard seeds, gram and rice.

As soon as the seeds stop spluttering, add the rest of the ingredients. Be careful — the lime juice will splutter as soon as you add it but will subside in a few seconds.

Fluff up the rice and add to the ingredients in the pan. Stir well to coat evenly. Add the peanuts.

Garnish with the fresh coconut if using.
Serves 4