Strawberry Milkshake Recipe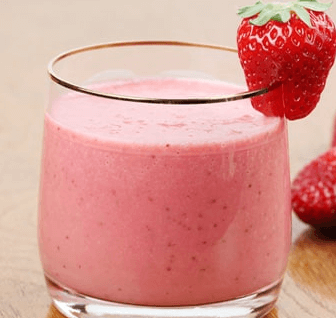 Wholesome, filling-almost a complete meal
Ingredients
4 glass milk

1 cup fresh strawberries, well washed (with the stalk and ring leaves at the base removed)

Or

Other than fresh fruits, canned fruits, like peaches, may also be used but in that case, remembers to cut down on the sugar you add.

Ice Cream(Optional)

Sugar to taste

A few drops vanilla essence(optional)

4 ice cubes, crushed
Utensils
An electric blender
Method
Place all ingredients in the blender container and blend smooth and frothy.

Pour out into glasses and serve immediately.
Variations
Flavored Shake
Use any essence and a drop of food flavoring to make a shake of the flavor you feel like. In that case, omit the first step of the recipe. Instead of an essence you may use any concentrate.