Crunchy Ladies Fingers with Onions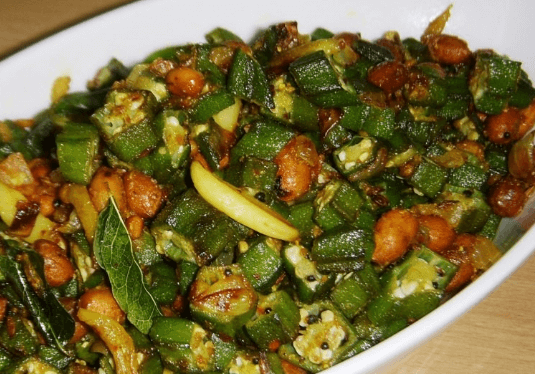 A favorite with children, these crunchy cooked ladies fingers have an adult dimension to them in this recipe addition of onions and piquant spices. They go especially with a rice-and-pulses menu.
Ingredients
1 kg ladies fingers, washed, dried and chopped in small pieces

1 cup cooking oil

3 large onions, sliced

2 green chilies, deseeded and chopped

¾ teaspoon garam masala

½ amchoor (dry mango powder)

Salt to taste
Utensils
 A karahi or any other large, heavy-bottomed pan, brown paper
Method
Heat the oil to smoking point, then reduce heat and wait 5 minutes. Drop in the onions and tossing almost continuously, fry till they are a crisp, golden brown.

Remove from the heat and drain on brown paper. Mix in the chilies and spices into the onions, crumble them slightly with the fingers and keep aside.

Into the same oil, add the vegetable. Tossing continuously on high heat till the ladies fingers are well browned and crisp.

This should take about 30 minutes by which time the vegetable will look a little shriveled. If you don't want it very crunchy, stop frying after about 15 minutes when it will be our just turning crisp but will not yet is really crunchy. Drain on the brown paper

Mix in the onions, salt and spices and serve immediately.

Serves 4
Note: Never add salt to ladies' fingers in the cooking process. The moment you do that they will turn gooey.