Dahi Vada/Dahi Bhalla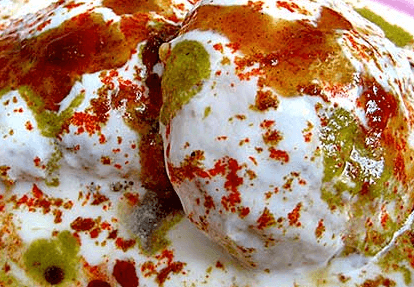 You will need –
1/2 cups urad dal (black gram)

4 cops curd

salt to taste

oil for frying

2 tblsp. grated fresh coconut

2 tblsp. chopped coriander leaves

2 green chilies

1 inch ginger

salt and sugar to taste

1/2 tsp. cumin seed powder

1 tsp. chili powder
Method:
Soak the urad dal for three hours. Soaking the dal longer makes the wadas oily. Drain and grind it very finely. Add salt and 1 12 tblsp. hot oil, mix well.

Heat oil and fry three or four wadas at a time, until golden brown.

Wet you hands so that the mixture does not stick to the hands.

Take plenty of water (or half water and half buttermilk; this is better) in a large shallow pan. Add a little salt and sugar to this.

Drop the fried wadas, few at a time, in this. When the next batch of wada is fried, remove the first batch from the water, press between two palms lightly to remove excess water and keep aside.

Repeat the process with all the wadas. Half an hour before serving arrange the wadas in serving bowl. Beat the curd, add salt and sugar to taste.

Grind the ginger and chilies coarsely and add to the curd along with coriander leaves and coconut. Mix well and pour over the wadas.

Sprinkle cumin seed powder and chili powder on top. Keep in fridge till serving time.