Chole Bhature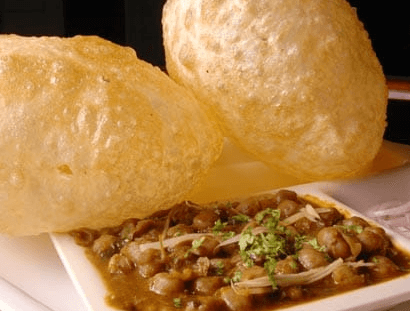 Chole are white beans, a type of chana, (Bengal gram) also known as kabuli chana. They are more popular in the northwestern parts of India; but now relished by many people all over the country. There are slight variations in the way this dish is made, I am giving one.
You will need –
400 gms of kabuli chana

2 to 3 medium sized potatoes

3 medium sized onions

1 inch ginger

8 petals garlic

2 green chilies

3 one inch pieces of cinnamon

6 cloves

2 big black cardamoms

8 pepper corns

1 large tomato

1 tsp. turmeric

Salt

chili powder

amchur (dried mango powder) to taste

5 tblsp. oil

2 tblsp. coriander leaves
Method:
Wash and soak the chana in lukewarm water, adding a pinch of soda-bi-carb to the water, for about eight hours. Cook the chana in the same water till soft.

Mash a small portion of the cooked chana. Boil, peel and cut the potatoes in large pieces.

Chop finely the onions, garlic and ginger. Slice the chilies lengthwise. Heat the oil, add cinnamon, cloves, cardamoms, and peppercorns, fry.

Add the chopped onion, garlic and ginger and fry on medium heat till golden brown. Add turmeric and chili powder and then the cooked chole along with the mashed portion.

Add potatoes, chopped tomato, salt and amchur. Mix well, adding a cup of warm water. Simmer on gentle heat for about 15 minutes. Add the green chilies, chopped coriander leaves and remove.

If you want a spicier dish, add 1 tsp, of garam masala along with the chilies.

You may use tamarind water or lemon juice instead of amchur. Addition of 1/4 cup of tea decoction gives a rich brown colour to the preparation.
Bhature
Bhature is a type of homemade bread like phulka, chapati etc. but it is generally made from maida (flour) and after fermenting the dough with curd or yeast or khameer (fermented dough) the chapatis are deep fried. The recipe I am giving below is somewhat different from the usual one. Bhature made in this way are less oily.
You will need –
500 gms (flour) maida

1/2 tsp. fresh yeast or 2 tsp. dry yeast powder

1 cup curd

salt to taste

oil for frying.
Method:
Melt yeast in a little lukewarm water, add a pinch of sugar and some flour to make a slurry. Cover and keep aside for ten minutes or so.

After it starts bubbling, add it to the dough along with the curd and make a pliable dough, adding more lukewarm water if necessary. Cover and keep aside for one hour.

Now knead again and divide into lemon sized balls.

Roll out to thickish puris, roast very lightly on a girdle on low heat, and immediately deep fry in hot oil. A bhatura is generally fried first and then roasted.

If baked first and then fried, it becomes less oily and is equally tasty.