Yakhni Pulao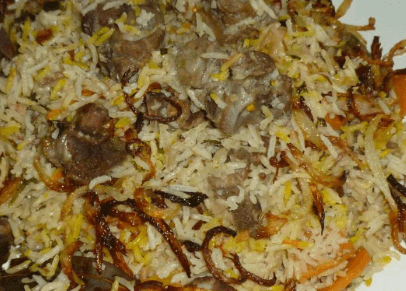 This is an ideal meat Pulav, when you do not fancy a spicy and heavy 'Biryani'.
You will need –
Mutton 1 kg

3 cups good quality rice

3 medium sized onions

12 petals garlic

2 inch ginger

2 green chilies

4 one inch pieces of cinnamon

15 cloves

1 tblsp. coriander seeds

6 cardamoms

2 tsp. black cumin seeds (shahjira)

1/2 cup curd

salt to taste

4 to 5 tblsp. Ghee

2 eggs, hard boiled (optional).
Method:
Wash and drain the rice. Tie one sliced onion; 6 crushed petals of garlic, 1 inch ginger sliced, 2 pieces of cinnamon, 8 cloves, 1 tblsp. coriander seeds, 2 green chilies, in a thin muslin cloth. Place this bundle along with the meat, salt and water in the pressure cooker and cook under pressure, but for only half the usual time.
Slice the remaining onions finely, grind the remaining garlic and ginger. Fry the onions in ghee till rich brown, remove half for garnishing. Add shahjira (black cumin), garlic-ginger paste, cinnamon, cloves, cardamoms and fry. Remove the bag from the meat; take out only the meat and add it to the pan with the onion mixture. Keep on frying, adding! the curd little by litle. Now add the rice, salt and fry well. Add the liquid from the pressure cooker and cook on low heat, covered, till done. Garnish with the fried onions and slices of hardboiled eggs if desired.