Mix Veg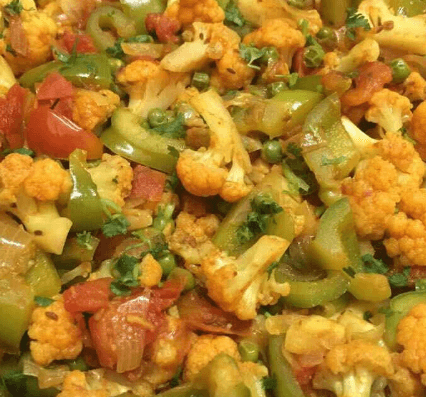 I am suggesting some vegetables, but you can make your own combinations according to the season and your particular liking.
You will need –
Approx. 1 kg. totally in weight a mixture of potatoes, brinjals, drumsticks, carrots, legumes of some variety of beans, sweet potatoes, etc. 2 medium sized onions, 1 large tomato (optional), 4. tblsp. oil, 3/4 tsp. mustard seeds, 1 tsp. turmeric, 1/2 tsp. asafoetida, salt and chilli powder to taste. 1 1/2 tblsp. dhana-jira powder, 1 tblsp. jaggery or sugar, 2 tblsp. grated coconut, 2 tblsp. chopped coriander leaves. Kala masala may be used in place of dhana-jira powder,
Method :
Cut all vegetables in convenient sized pieces and keep them in water till cooking time. Chop onion finely. Heat oil, add mustard seeds and asafoetida. Add onion, fry lighuy. Add turmeric, fry, add vegetables. Mix well, add salt, cover and cook on low heat stirring once in the while. When half done, a little warm water may be added if mixture is too dry, When almost cooked, add the remaining ingredients and cook till done. Take care not to make the vegetable too dry or watery.