Puran Poli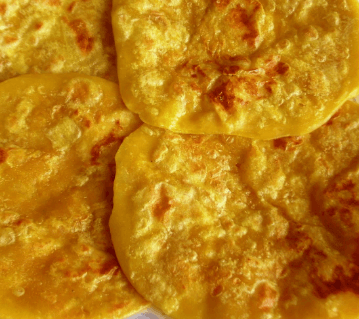 You will need
2 cups whole wheat flour

1-1/2 tblsp. oil

1/2 tsp. salt,

water
Will make 8 Polis.
Method :
Make the dough as for Phulkas. Divide into 8 balls, keep covered. Heat the girdle on medium heat.

Roll out one ball to the size of your palm, smear with a little oil and a pinch of flour.

Fold and fold again, giving it a triangular shape. With the help of dry flour, roll out evenly to a thin circular shape, approx. 8 to 9 inches in diameter.

Place on the girdle, turn after a few seconds.

Bake the other side well, and then turn again to bake both the sides evenly to a light brown.

Remove, smear with ghee, fold and store in a cloth-lined tin.