Meat with Tomato Recipe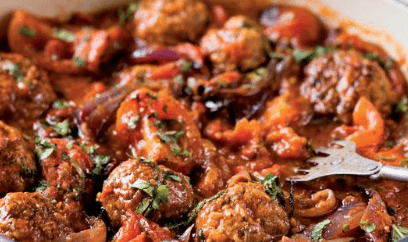 An everyday meat curry except that it is rich in tomatoes. It looks very appetizing too and goes well with a rice preparation.
Ingredients
 

½ kg meat, well washed

5 tomatoes, blanched and chopped or pureed

3 tablespoons cooking oil

2 bay leaves

2 whole red chilies

1″ stick cinnamon

2 small onions, ground

1-1/2″ piece of ginger, ground

5-6 cloves garlic, ground

1-2 green chilies, chopped or ground

1-1/2 teaspoons coriander powder

1 teaspoon cumin powder

1 teaspoon sugar

Salt to taste
Utensils
A pressure cooker; electric blender if you decide to puree the tomatoes
Method
 

In the cooker, heat the oil. Add the bay leaves and chilies. When the chilies turn dark, remove them from the oil and discard.

Add the cinnamon and after a few seconds, the onions Fry light brown.

Add the ginger and garlic and fry golden brown.

Add the chilies and spices and fry a few seconds.

Add the tomatoes, sugar, and salt. Fry till the fat separates. If you have not pureed the tomatoes, mash them well while they are cooking.

Add the meat. Fry in the tomato paste till it's lightly browned all over.

Add the water. The curry should look thinner than you want it eventually. Close the cooker and bring to

maximum

pressure. Lower the heat and cook another 15-25 minutes or till the meat is tender and the curry has thickened.
Serves 4