Aloo Paratha Recipe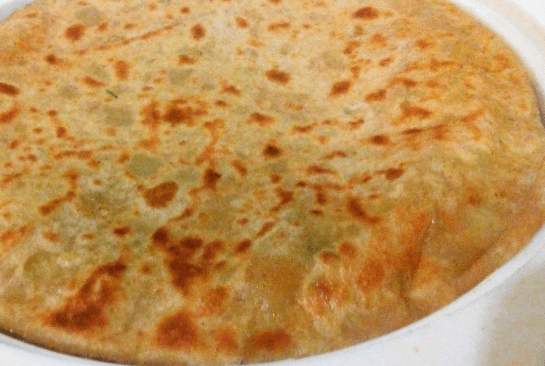 Stuffed parathas have always been regarded as being traditionally Punjabi. Normally eaten for breakfast or Sunday brunch with natural yogurt and butter, they are delicious when hot and crisp.
SERVES 4 · PREPARATION TIME 1 HOUR · COOKING TIME 40 MINUTES
Ingredients
150 g/1 lb (4 cups) whole meal flour

300 ml/) pint (14 cups) water

1 teaspoon ajwain (carom seeds)

450 g/1 lb potatoes

Salt to taste

1 medium onion

Chili powder to taste

Small piece fresh root ginger

½ teaspoon garam masala

4 tablespoons oil
Method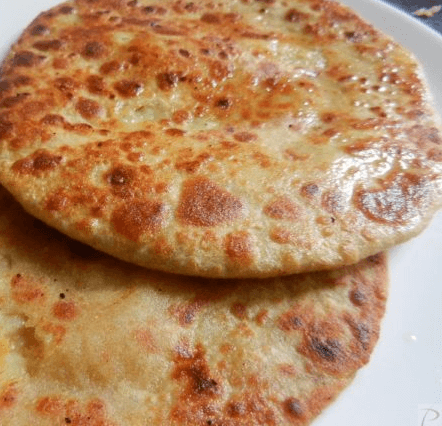 Prepare the dough as for Chapatis. Cook the unpeeled potatoes in boiling salted water for 25 minutes or until tender. Peel, mash and leave them to cool.
Finely chop the onion and ginger, add them to the potatoes together with all the remaining ingredients except the oil. Break off small pieces of the dough about the size of a large walnut and roll each into a circle measuring 10 cm/4 in diameter. Spread about 1 tablespoon of the potato mixture on half the dough circles and dampen their edges. Place a second piece of dough on top and firmly press down around the edges to seal in the filling. Carefully roll out to give circles measuring 15 cm/6 in diameter.
Heat the oil in a large frying pan (skillet), carefully lift the parathas into the pan and cook them, one at a time for a few seconds until small bubbles appear on top. Turn over, and cook them on the other side for a few second this process once more and give a final turn until the paratha golden. Serve hot with plain yogurt and butter.
Note: These freeze very well and may easily be reheated from frozen under a hot grill.