Appetizing Herb Chicken Recipe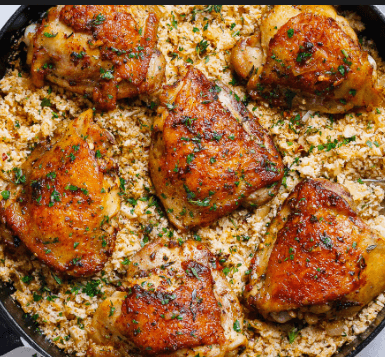 With no spices but relying on herbs for flavor, this is a simple and delicious preparation. What is more, it is one of those satisfying all-in-one meals. This version is made with potatoes and peas, but you can add any other vegetables that you like. It is best served with rice and bread.
Ingredients
1 chicken weighing about 700 gm, cleaned and jointed

2 large potatoes, sliced

100 gm peas

3 tablespoons cooking oil

5-6 curry leaves

1-2 green chilies, de-seeded and chopped

4-5 cloves garlic, ground

1-1/2″ piece of ginger, ground

3 onions, ground

2 tomatoes

3 tablespoons fresh coriander

2 tablespoons tomato sauce

4-5 leaves basil (tulsi)

1 teaspoon oregano

Salt and pepper to taste
Utensils
A large karahi or heavy-bottomed pan
Method
Heat the oil. Don't overheat it. Drop the chilies and curry leaves into it.

After a few seconds, add the ginger and garlic. Sauté for a few minutes, stirring almost continuously.

Add the onions and fry golden brown.

Puree the tomatoes with the coriander and add to the pan along with the tomato sauce, basil, oregano, salt and pepper. Fry till the fat separates.

Add the chicken, potatoes and peas.

Add enough water to make gravy of a thin consistency.

Cover and cook till all the vegetables and chicken are tender, and the curry has thickened to the consistency you desire.
Serves 4