Appetizing Methi Pulao/Fenugreek Rice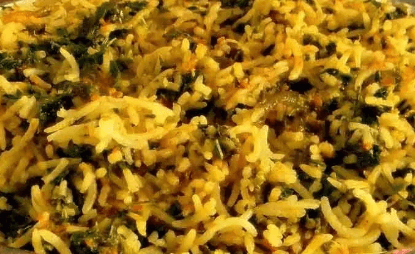 Methi/Fenugreek with rice is Piquant, tempting combination
 Ingredients
 

1-1/2 cups rice, picked, washed and soaked in 3 cups water.

 

50 gm fresh fenugreek, washed and chopped, or 5-6 teaspoons dried fenugreek

 

3 tablespoons cooking oil

 

1 piece of cinnamon

 

4 cloves

 4

 black cardamom

 

1 teaspoon whole black peppercorn

 

2 onions, chopped fine

 

1 piece of ginger, ground

 

4 cloves garlic, ground teaspoon

½ turmeric powder

 

2 green chilies (optional), chopped or ground 

Salt to taste

 

 
Utensils
 A heavy-bottomed pan with a tight-fitting lid; a tava
 Method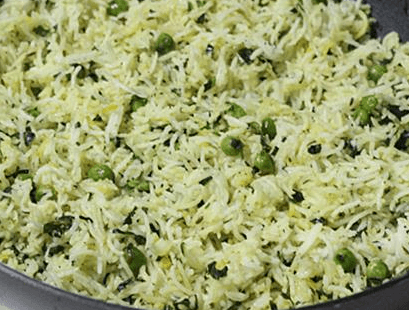 1.     Boil the fenugreek in water for about 10 minutes. Grind and keep aside.
 2.     Heat the oil and add the next four ingredients.
 3.     After a minute or so, add the onions and fry till pinkish.
 4.     Add the ginger-garlic paste and fry till golden brown.
 5.     Add the turmeric, chilies, and salt and fry a few seconds.
 6.     Add the fenugreek and saute for a few minutes. If you are using dry fenugreek, sauté it now.
 7.     Add the rice and fry. When it starts sticking at the bottom, add the water in which the rice was soaked. Turn the heat to high. After the liquid starts boiling and reaches the level of rice, reduce heat, cover the pan tightly, put the tava underneath it and let it cook 25 minutes. Open the pan, check the rice is done, and then fluff up gently with the back of a spoon. 
Serves 4
Note: You add Matar/Peas also.