Badam Sharbat Recipe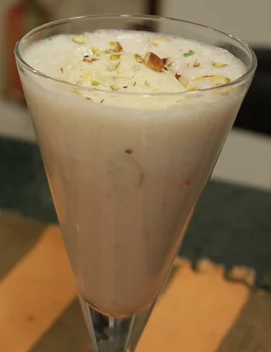 Heavy, exotic cooler, especially recommended for those with a sweet tooth. It can also be served added to a glass of milk, which makes a very nourishing drink.
Ingredients
 

120 gm almonds, shelled and soaked overnight in water

8 green cardamoms

2 cups water

3 Cups Sugar

Few threads saffron (optional)

Lime juice
Utensils
Heavy-bottomed pan; a grinding stone or electric blender; Muslin cloth
Method
 

Grind together the cardamoms and almonds. It is a good a to pound the cardamoms and almonds roughly before ting. You can grind them on a grinding stone or in the grinder. In either case, you will have to keep adding a little er in order to get a really fine paste. Keep aside.

Boil together the sugar and water. Start by keeping the mixture on low heat and stir to dissolve the sugar. Once it is dissolved, you can raise the heat and let the mixture come a boil, then lower the heat and simmer till it is reduced by one-third. You have to stir occasionally. Remove the scum and raisin through muslin to remove any impurities. Put back on fire and add the almond paste. As soon as the mixture comes to the boil again, remove from the fire and add the on. Cover and leave to infuse.

When cooled, bottle and store in the refrigerator.

To serve, pour a few tablespoons into a glass and top ice and water. Sharpen with lime juice if you like.
Makes two 450-gm bottles