Black Grapes Jam Recipe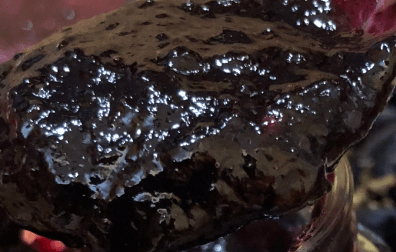 Black Grapes Jam is very delicious as well very beneficial for our health as it has many health boosting properties such as it well known as immunity booster because it is very rich in vitamin C, K and A along with flavonoids, minerals and it also improves eye sight, effective in fighting all kinds of cancer, enhances the health of brain, good for people suffering from migraines, improve overall hair growth and lower the risk of diabetes too.
Ingredients
Black grapes – 350 gm

Sugar – ½ cup

Water – ½ cup

1 teaspoon – Lemon Juice
Directions
First remove grapes from the stems and then wash grapes properly.

Now, take a pan and boil water into it and put all the grapes into it.

Boil these grapes for 10-15 minutes on low flame. Stir and mash grapes in between to form a paste.

Then, turn off the flame and put grapes into a blender and blend until a smooth paste forms.

Now, again pour out the paste into the pan and add sugar and stir well.

Cook this paste on low flame till it become thick. When you find paste is thick enough, add lemon juice into it and stir well.

Now, turn off flame as jam is ready.

Then allow jam to cool at room temperature.

Now, pour out this jam into a glass jar and store into a refrigerator.

You can serve this jam with bread in breakfast or chapatti (Indian bread) or can use as a topping for cakes too.
Note: You can increase the ingredients quantity as per your requirement.
            We would like to hear from you.