Boiled Plain White Rice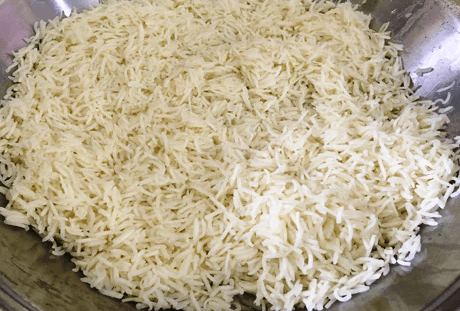 To make perfect boiled plain rice or sade chawal is an art-to have it well co yet not soggy or broken, to have each grain separate. Though exact cooking times vary with different qualities of rice here are perfected timings for average good quality.
Ingredients
1-1/2 cups rice, picked, washed and soaked in 3 cups water

Salt to taste, if you like. Salt cuts down the cooking time.
Utensils
A heavy-bottomed pan with a tight-fitting lid or pressure cooker, a tava
Method
Put the rice along with the water in which it was soaked and the salt. Cover and cook on high heat till the liquid boils and reaches the level of the rice, then reduce heat, put the tava underneath and keep 8-10 minutes. Open the pan, check that the rice is tender and all the excess water has evaporated.

Fluff up gently with the back of a spoon and if possible, serve immediately.
Serves 3 average eaters