Chunda/Raw Mango Relish Recipe-I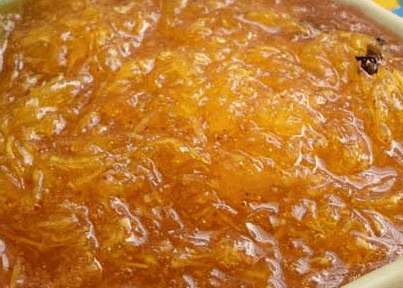 Ingredients
5 kg. rajapuri raw mangoes

25 kg sugar

2 tbsp oil

6 cloves

2 inch cinnamon

3 dry red chilies

1/4 tsp asafetida

1 tbsp mustard seeds

1 tbsp salt

Chili powder (optional to taste)
Method
Peel and grate the mangoes and weigh the grated mango.

For 1 kg grated mango, take 1.25 kg sugar.

Heat the oil; add mustard seeds, asafoetida, cinnamon, cloves and red chilies.

Mix the mango and the sugar and add it to the oil. Add salt. Mix well and cook on medium heat without cover, stirring frequently.

Cook till the sugar melts and one string syrup is formed.

Remove and fill in a jar when cool.

If you want to add chili powder, add it when the Chunda is cool.
 Sweet and Sour Chunda Recipe-2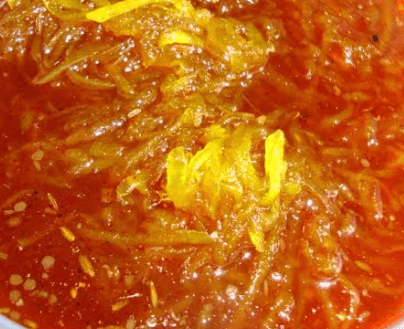 Ingredients
1 kg grated rajapuri mango

1.25 kg sugar

Salt and chili powder to taste

2 tbsp whole cumin seeds
Method
Take a large enough stainless steel vessel and a thin white cloth to cover the vessel.

Mix the mango, salt and the sugar in the vessel. Cover with the white cloth and tie it round the vessel with a tape.

Keep in the sun everyday for ten to fifteen days or till thick syrup is formed.

Stir every other day. When the Chunda is ready add the chili powder and cumin seeds and fill in a jar.