Easy Peas Pulao/Matar Pulao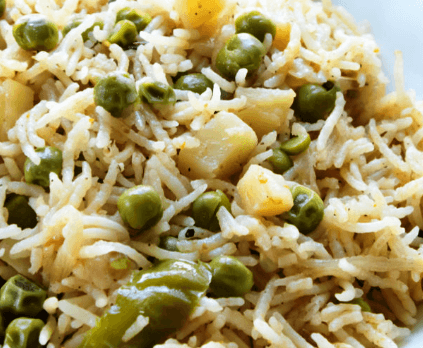 If you can get fresh peas to make this pulao, nothing like it; otherwise use frozen ones or substitute with green or dried chickpea for an unusual result and it goes well with all menus.
Ingredients
½ kg peas, shelled (you can use more or less if you like)

1-1/2 cups rice, picked, washed, and soaked in 3 cups water

3 tablespoons cooking oil

1″ piece cinnamon

3-4 cloves

1 black cardamom, pounded

½ -1 teaspoon whole black pepper

1 teaspoon cumin seeds

3 onions, sliced

3-4 cloves garlic, crushed

1-1/2″ piece ginger, ground

2 stock cubes, vegetarian or non-vegetarian

Salt to taste
Utensils
A large, heavy flat-bottomed pan with a tight-fitting lid
Method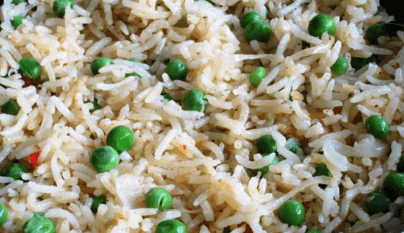 Heat the oil. Add the cinnamon, cloves and cardamom. After a minute, add the pepper and cumin. Don't let them too dark.

Add the onions. Fry till they're a golden brown.

Add the ginger and garlic. Stir and fry a few minutes more. Sprinkle a few teaspoons of water if necessary to prevent burning and sticking.

Add the cubes, crumbled, and salt.

Add rice, peas and the water in which it was soaked. Raise heat and let the liquid start boiling and reach the level of the rice, then lower the heat, put the tava underneath the pan and cook 25 minutes.

Open the pan, check that the rice is done, and then gently fluffs it up with the back of a spoon.
Serves 4
 Note: If you use dried chickpeas instead of peas, boil them