Bhakri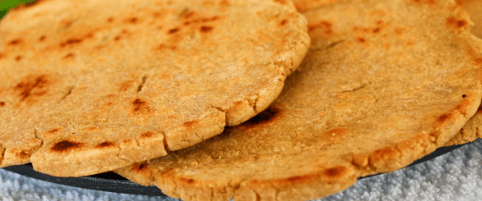 You will need –
2 cups whole wheat flour; or Jawar or Bajra flour, or 1 cup whole wheat flour and 1 cup Bajra flour

Salt and lukewarm water.

Oil and ghee only if you are using only whole wheat sour.
Method :
(a) For whole wheat flour, try to obtain flour which is slightly more coarsely ground than usual. Ordinary whole wheat flour will also do. Add 2-1/2  tblsp. oil and 1/2 tsp. salt, rub well, then add enough water to make a stiff dough. Knead well and divide into 12 balls. Heat the girdle on medium heat. Roll one ball to a thickish round, about 5 inches diameter. Shallow fry like a Parotha/ Prantha to a crisp golden brown,
(b) For Jawar or Bajra flour, add 1/2 tsp. salt and enough lukewarm water to make a stiff dough. With wet hands, knead well till it is soft and pliable. Divide in 8 balls, sprinkle some dry flour on a plate or a board and lightly press a ball down on it, turning it round till you form a uniformly thick round 5 to 6 inches in diameter. Carefully lift this on your palm and place it on the girdle. After a few seconds, apply a little water on the upper side and quickly turn upside down. Now bake longer, till the Bhakri comes off loose easily from the girdle. Lift it with tongs and hold the lightly baked side on the flame. The Bhakri will puff up. Take care not to let it get charred. Remove and stand against the side of a tin to allow the steam to escape.
(c) You can mix whole wheat flour and Bajra flour in equal proportions. Make the dough the same way as given in
(b). Knead well and divide in 8 to 10 balls. On a lightly floured board, roll out with a light hand to make a round approx. 5 to 6 inches in diameter. Bake as above.