Carrot and Cauliflower Pickle, गाजर और गोभी का आचार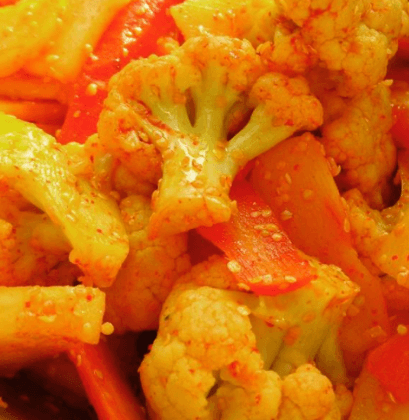 Cauliflower
Cauliflower is very healthy to eat as it contains health-promoting photochemical, high level of anti-inflammatory compounds and ability to fight cancer, boost heart health, rich in vitamins and minerals, boost brain health and digestive benefits
Carrots
Carrot is root vegetable which gives health benefits from protecting eye health to improve brain health. It is a rich source of antioxidants (beta carotene). It is also beneficial in other problems like heart disease, stroke, and cancer. It is important for maintaining oral health and boosts skin health and good for wound Healing
Carrot and Cauliflower Pickle
Ingredients
1 ½ kg carrots

1 ½ kg cauliflower

½ kg (jaggery) gur

½ liter vinegar

100 gm salt

5 gm turmeric (haldi)

100 gm garlic paste

100 gm ginger paste

Grind to a powder the following ingredients:
25 gm- Mustard Seeds (rai),

15 gm-Pepper,

15 gm-red chilies,

15 gm- cumin seed (zeera)
Directions
First wash both the vegetables properly.
Then cut and dry vegetables under sun for 2 hours.
Heat oil in a heavy steel pan and add ginger and garlic paste, turmeric (haldi) and chilies and fry lightly.
Now, add vinegar and jaggery (gur) and simmer till jaggery dissolves.
Add vegetables and salt cover pan and cook till water evaporates.
Remove from heat and add all the powdered spices and mix well.
Allow it cool and then store in a glass jar.