Fragrant Onion Pulao , भुने प्याज़ का पुलाओ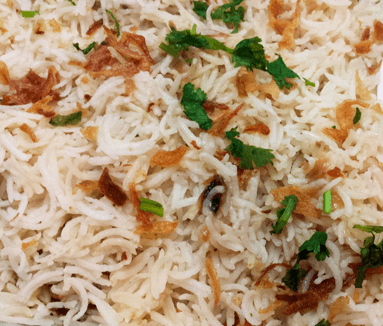 Ingredients
2 cups rice, washed, picked and soaked in 4 cups water.

4 tablespoons cooking oil

 2 black cardamoms, crushed

3 small pieces of cinnamon

 5 cloves

 1 teaspoon whole black pepper

 3-large onions, sliced

 2 stock or soup cubes, vegetarian or chicken (optional)

 Salt to taste
Utensils
A heavy-bottomed pan with a tight-fitting lid
Method
Heat the oil. Add the whole spices and fry a few seconds

Add the onions and fry golden brown.

Add the rice with the water in which it was soaked. Also add the stock cubes if you're using them and the salt. If you're using the cubes, be careful about the salt you are adding. Raise the heat. When the liquid starts boiling, and reaches the level of the rice, lower the heat, insert the tava underneath and cook 20-25 minutes. Open the pan, check that the rice is cooked, then gently fluff up with the back of a spoon. Keep covered till ready to serve.
Fragrant with the aroma of cloves and cinnamon and brown with the colour of fried onions, this pullao goes well with simple dal or chicken curry.