Piquant Tomato and Capsicum Rice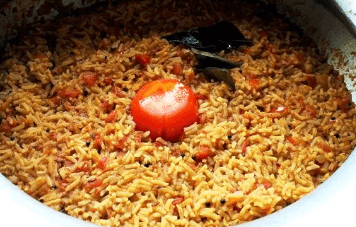 An(Tomato and Capsicum Rice )interesting combination which looks so different and goes well with just curd or a simple daal.
Ingredients
1 cups rice, picked, washed and soaked in 1-1/2 cups water

3 tablespoons cooking oil

1 teaspoon cumin

1 cups tomato juice or pureed tomatoes

1 large capsicum, chopped in small pieces

1 tablespoon fresh, finely chopped coriander or dill

1 teaspoon sugar

1 soup or stock cube Salt and pepper to taste
Utensils
 A heavy-bottomed pan with a lid, a tava
Method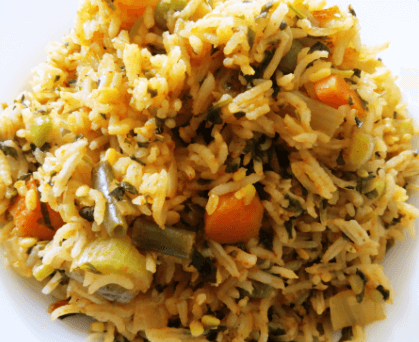 Heat the oil. Add the cumin. Don't let it get too dark.

Add all the rest of the ingredients. Stir well, then cover and raise the heat to high. When the liquid boils and reaches the level of the rice, reduce heat, put the tava underneath cover tightly and keep 25 minutes. Open the pan and fluff the rice gently with the back of a spoon.
Serves 4
 Note: If you want to make this more filling, add vegetables to it; potatoes, cauliflower, or peas.