Green Tomato Relish,ग्रीन टोमाटो रेलिश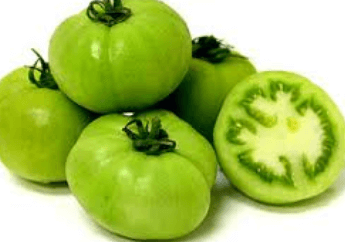 Health Benefits of Green Tomato
Green tomato is very rich in Vitamin C, A, K and B-Complex, minerals, protein, fiber, calcium and 367 milligrams of potassium. Vitamin C help you boost your immune system so your body is able to fight off colds, flu and other illnesses more easily. Vitamin C is also crucial for the health of your teeth, gums, bones and skin. Green tomatoes are a healthy source of fiber, which your intestinal and digestive systems rely on for good health.
Ingredients
1 kg green tomatoes

1 kg large green chilies

150 gm Brown sugar

2 onions sliced

½ cup salt

1 cup vinegar
Directions
In large bowl mix tomatoes and onion and sprinkle salt over the mixture and allow to stand overnight.
Next morning drain off salt.
Put tomato, onion mixture and other ingredients chilies, brown sugar and vinegar into a heavy pan and cook for half an hour on medium flame. Now turn off flame and allow it cool.
Then pour out into a glass jar.