Homemade Brown Bread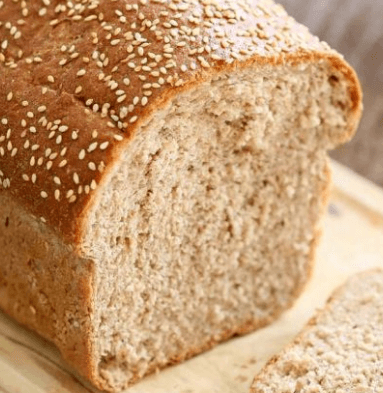 Few bakeries in India make real brown bread but if you have an oven and good yeast, you can make excellent brown bread at home. To make a big loaf weighing approx. 600 to 700 gms.
You will need-
500 gms whole wheat flour (5 cups)

1 tblsp. jaggery or sugar

1/2 tblsp. Salt

2 tblsp. margarine or veg. ghee

1 tblsp. Caramel

1/2 tsp. wet yeast or 2-1/2 tsp. dry yeast (because dry yeast is very often less active than the wet yeast).
Method:
(a) Test the yeast to see if it is active or not.
(b) To make caramel – Melt 1/2 cup sugar in a thick bottomed pan on low heat, stirring all the time, so that sugar does not stick to the bottom of the pan. When all the sugar melts and turns into a rich reddish brown liquid, squeeze a quarter of a lemon and add 3/4 cup of water. Mix well, remove and store in a bottle when cool. This will stay for a very long period and can be used for brown bread, banana loaf, puddings and cakes.
To make the bread –
Put the flour in a deep vessel, make a 'well' in the centre.

Dissolve the salt and sugar in a little lukewarm water and pour it in the 'well', along with the yeast slurry and caramel.

Mix and make soft dough, using more lukewarm water if necessary.

Knead well. Melt the fat and pour on the dough.

Knead well, mixing the fat thoroughly with the dough and beating in as much air as you can, till the dough feels soft and springy.

Cover and keep in a warm place till dough rises to double its size – takes 1- 1/2 to 2 hours.

Pinch it back, cover and leave to rise again. Grease the bread mould. When the dough rises again, remove to a floured board; beat flat with your knuckles.

Fold all four sides inwards and roll tightly into an oblong roll. Transfer the roll to the mould, cover and leave to rise. Heat the oven to 500°F.

When the bread rises almost to the edge of the mould, bake in a hot oven for forty minutes or so. Brush the top lightly with a little melted fat to give it a shiny look. (You may sprinkle a spoonful of sesame seeds on the top of the bread just before baking.

It gives the bread a very attractive look.) Remove from the oven when the top is golden brown; invert on a wire rack and cool for atleast four hours before slicing.

If you want flat topped bread, cover the mould when baking. If it is left uncovered, the bread will rise, giving a curved top.