Murg Khoobani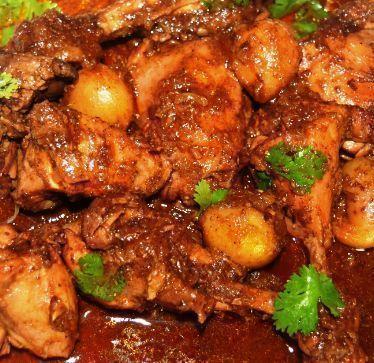 You will need –
5 kg. chicken

200 gms apricots (dried)

4 medium sized onions

4 medium sized tomatoes

2 inch ginger

12 petals garlic

2 inch cinnamon

4 black cardamoms

salt to taste

saffron or saffron colour and essence

3/4 cup ghee

chili powder (optional).
Method:
Clean and joint the chicken in convenient sized pieces. Chop the onions very finely.

Grind the garlic and ginger. Blanch the tomatoes and chop finely.

Soak the apricots in water for half an hour and remove the stones.

Heat the ghee in a large pan, add the cardamoms, onions, cinnamon and fry till light brown.

Add the garlic ginger paste, fry again. Add tomatoes, mix well and fry for a few minutes.

Add chicken, salt and chili powder (optional). Mix well, cover and cook on low heat.

Keep some water on the lid. Stir once in a while, adding a little water if necessary.

When almost done, add the apricots and saffron.

Cook till done and remove, there should be thick gravy.