Potato Bhaji (Gujarati Style)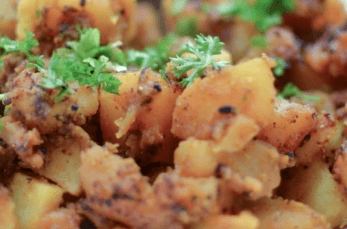 You will need –
600 gms potatoes

4 tblsp. Oil

4 green chilies

1 tblsp. Raisins

8 cashewnuts

1 tblsp. white (seasame) til seeds

2 tblsp. fresh grated coconut

2 tblsp. chopped coriander leaves

1 tsp. mustard seeds

1/8 tsp. asafoetida (optional)

1/2 tsp. turmeric

salt and sugar to taste
Method:
Boil, peel and cut the potatoes in small pieces. Chop the chilies, break cashew nuts in bits.

Heat the oil, add mustard and asafoetida, til seeds, chili pieces and then put in the raisins and cashews and fry.

Lastly add the turmeric and then the potatoes, salt and sugar. Mix well and fry for some time. Add the coriander and coconut, remove.