Bharwa Bhindi /Stuffed Okra Recipe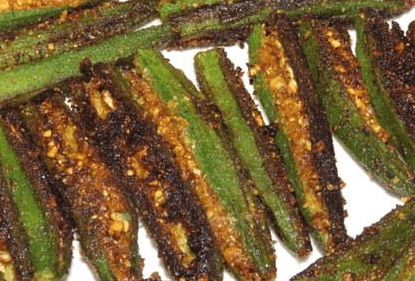 Bhindi(Okra) is also known as "lady's fingers" is one of my favorite dishes or I can say the most favorite one in the list of vegan recipes. I like it in every way but bharwa bhindi or stuffed okra is very delicious treat.  In this recipe we stuff bhindi/okra with the combination of tangy and spicy masalas (spices). We can have variations in the combination of spices. But I love to stuff it with garam masala, turmeric powder, amchur (dried mango powder), red chili powder, cumin seeds and coriander powder and fry into mustard oil. Amchur powder give a twist in this, some people do not use this so it can be optional.
In spite of a tasty treat Bhindi/Okra has many health benefits such as it is rich in potassium, vitamin B, vitamin C, folic acid, calcium and it has anti-stress, anti-fatigue effects, it lower the cholesterol levels. Okra has also properties manage blood sugar in all type of diabetes like type 1, type 2, and gestational diabetes.
You may also like:
Fragrant Spicy Ladies Fingers/Okra Recipe: Fragrant Spicy Ladies Fingers/Okra Recipe,
Crunchy Ladies Fingers with Onions: Crunchy Ladies Fingers with Onions,
Hot and Sour Karela/Bitter Gourd Recipe: Hot and Sour Karela/Bitter Gourd Recipe
Now, let's start making it….
Ingredients
500 gm Bhindi (Okra)

2 to 3 Tablespoons mustard oil or you can use any cooking Oil
Spices 
2 Teaspoons Garam Masala

1/2 Teaspoon Haldi (Turmeric Powder)

2 Teaspoon Dhaniya Powder (Coriander Powder)

1/2 Teaspoon Jeera Powder (Cumin Seeds Powder)

1/2 Teaspoon Amchur (Dry Mango Powder), optional

1 Teaspoon Salt, or according to taste
Recipes of Homemade Spices: Homemade Spices
Method
 

First wash the bhindi and let it dry or you can use cotton cloth to pat dry it.

Now, cut the edges from both sides of bhindi in a way that they should remain jointed at both ends and make a cut in each bhindi lengthwise without cutting through the entire length.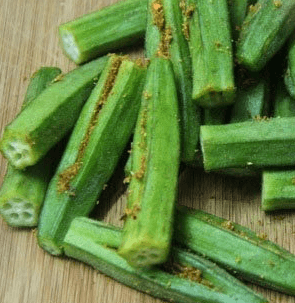 For Stuffing
Keep bhindis aside and take a bowl or a deep pot put all spices (coriander powder, cumin seeds powder, amchur powder (dried mango powder) red chili powder, garam masala, turmeric powder and salt) into it and mix them well.

Add 2 teaspoon vegetable oil into the mixture of spices and again mix well. Stuffing for the recipe is ready.
Let's Cook
Take karahi or a large pan.

Heat 2 to 3 tablespoon mustard oil (or any vegetable oil you want) in it on medium flame.

When mustard oil starts smoking or start changing color (this in case of mustard oil only as I am using this) put stuffed bhindi/okra into it one by one. Now stir once and remain uncovered for 1 to 2 minutes.

Now, flip the all the bhindies/okras and cover the pan and keep flame low.

After 2 minutes, uncover the pan flip each bhindis/okras and then cover it again.

Keep remaining it on low flame.

Keep stirring and tossing the bhindis after every 2-3 minutes until it become tender and properly cooked. This will take approximately 12 to 15 minutes on low flame.

Once you find that all okra are cooked well, uncover them and stir for one half to 1 minute on low flame.

Now, turn off flame. Okras are ready to serve.

These stuffed okra goes well with Indian Flat Breads Chapati, Plain Prantha or Naan including plain or flavored curd.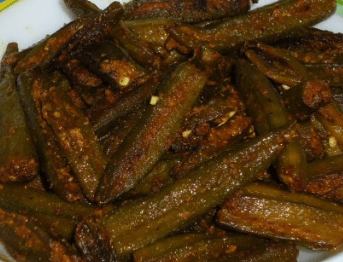 Thank you..we would like to hear from you.