Hot and Sour Karela/Bitter Gourd Recipe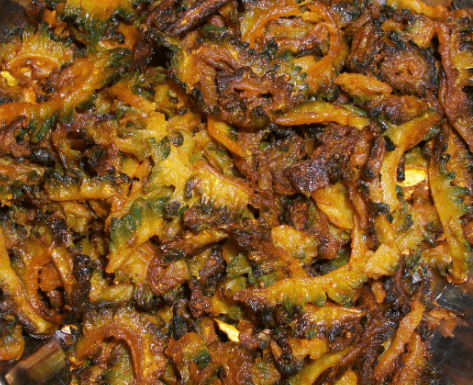 For those who relish the hot and sour flavors, this recipe for winner. It imaginatively teams bitter gourds with raw mango to delicious effect.
Ingredients
500 gm bitter gourds, peeled, deseeded, and cut in thin strips

250 grams raw mangoes, peeled and cut in strips

5 tablespoons mustard oil

Turmeric

¼ teaspoon cumin seeds

¼ teaspoon onion seeds (kalonji)

¼ teaspoon fenugreek seeds

¼ teaspoon mustard seeds

½ teaspoon aniseed

2-3 whole red chilies

4 onions cut in rings

1/2-1/4 teaspoon sugar

Salt to taste
Utensils
A heavy-bottomed pan or karahi with a lid
Method
Rub the strips of gourd with salt and a little turmeric and keep aside for at least a couple of hours, then wash them well.

Heat the oil to smoking point, reduce heat, wait a few minutes, then tip the gourds in and fry to a uniform golden brown. Remove and keep aside.

In the same oil, drop all the seeds mixed together.

As soon as the seeds stop spluttering, add the chilies and fry for a minute.

Add the onions and fry till they are golden brown.

Add the fried gourds and the mango. Stir well, add the salt and sugar, cover and cook on low heat till the mango is completely soft, in fact almost dissolved. This dish improves with keeping

Serves 4.