Indian Chapati Recipe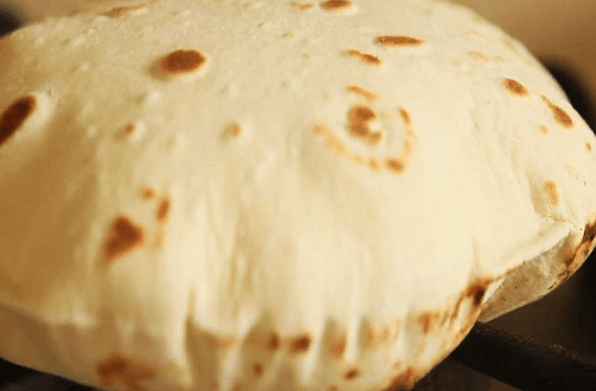 All over northern, central and certain parts of the western region chapati is the staple diet. Traditionally chapatis are freshly prepared at each meal; however I find that, cooked, they freeze very well. There is no need to defrost the chapaties before reheating – simply place them under a hot few minutes.
MAKES 8-10 · PREPARATION TIME 45 MINUTES · COOKING TIME 30 MINUTES
Ingredients
225 g/8 oz (2 cups) whole meal flouE

150 ml/1 pint (2/3 cup) water
Method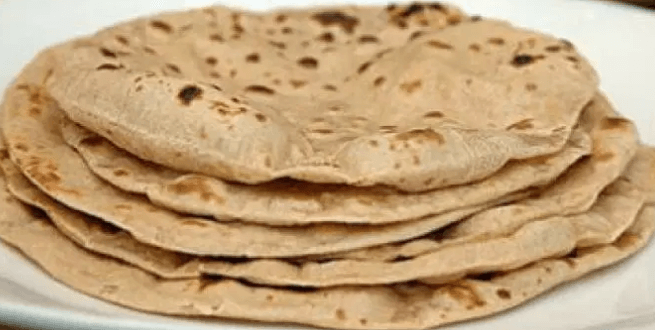 Place the flour in a bowl, gradually stir in the water and knead thoroughly to give a smooth dough-it may be kneaded with the dough hook in a food mixer Wrap the dough in cling film and leave it to rest for 15-20 minutes in the refrigerator.
Slowly heat a large heavy-based frying pan (skillet) or griddle (tava). Break off small pieces of dough about the size of a walnut. Shape them into smooth balls, then roll out on a floured surface into rounds measuring approximately *10 cm/4 in. in diameter. Carefully lift the dough into the pan or on to the griddle and then cook for a few seconds on one side.
Turn the chapatis over and cook on the other side until small bubbles start appearing on the surface. Turn it back immediately and cook for a further few seconds so that the underneath is cooked. Gently press down the edges to ensure that they are cooked. Serve immediately, either plain or spread with a little ghee.