Vietnamese Egg Coffee Cream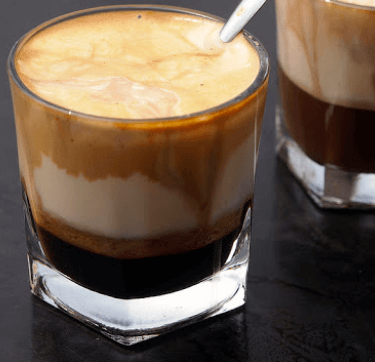 You will need –
3 tblsp. instant coffee

10 gms gelatin

4 cups milk

4 eggs

5 tblsp. Sugar

1/2 cup cream

6 walnuts
Method:
Take two cups of water and dissolve the coffee and the gelatine in it, over gentle heat.

Add the dissolved mixture to the (boiled and cooled) milk.

Beat the egg yolks and sugar together in a metal bowl, holding the bowl over a pan of hot water, till the mixture becomes thick and creamy.

Whip the egg whites stiff. Stir the egg yolk and sugar mixture in the milk along with the cream and mix well.

Add 1 tblsp. of the beaten egg white to the milk mixture and mix vigorously.

Lightly fold in the rest of the egg white. Pour in a glass bowl and set in the fridge. When set, decorate with some whipped cream and walnut pieces.