Stuffed Brinjal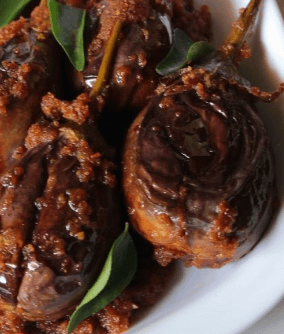 You will need –
750 gms small

round brinjals of the black, green or dark purple variety

2 medium sized onions

3 tblsp. fresh or grated coconut

4 tblsp. chopped coriander leaves

2 tblsp. dhana-jira powder or kala masala

1 tsp. turmeric

2 tsp. chili powder

1- 1/2 tblsp. jaggery or sugar

1 tblsp. gram flour

salt to taste

5 tblsp. Oil

1 tsp. mustard seeds

1/4 tsp. asafoetida

2 tblsp. tamarind water (optional).
Method:
Keeping a small portion of the stem intact, cut off the rest of the stem and make crisscross, two slits on the top side of each brinjal to stuff the filling.

Chop the onion finely and mix all the ingredients with it. Mix well, then stuff a little of the mixture in each brinjal. Keep aside the remaining stuffing if any.

Heat the oil, add mustard seeds, asafoetida and a little turmeric. Put in the brinjals and turn them slowly till they are well coated with oil.

Reduce the heat, cover with a lid with some water on top of the lid. Stir once in a while till half done.

Add the remaining stuffing if any and tamarind water or a little ordianry water, mix and simmer gently till done. There should be very thick and very little gravy.