Keema (Minced Meat) Parantha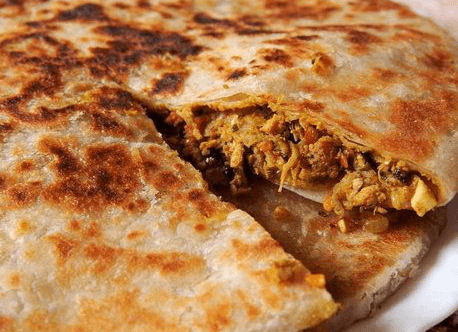 You will need –
500 gms Keema

2 medium sized onions

2 green chilies

8 petals garlic

1 inch ginger

2 tblsp. chopped coriander leaves

1/2 tsp. garam masala

2 tomatoes

salt and chili powder to taste

2 tblsp. Oil

3 cups whole-wheat flour

4 tblsp. melted veg. ghee or margarine

salt to taste

ghee for frying
Method:
Chop the onions finely. Grind the garlic and ginger. Heat oil, fry onions, add garlic ginger paste. Fry again.

Add the minced meat, fry well. Add salt, chili powder and garam masala.

Chop the tomatoes finely and add to the meat. Mix well and cook on gentle heat till dry.

Add the chopped chilies and coriander leaves.

Make a stiff dough with the flour, ghee, salt and water. Knead well and divide into lemon sized balls(about 20 to 24).

Roll out to the size of a saucer (about 5 to 6 inches in diameter). Spread about 1 to 1- 1/2 tblsp. of the mixture on one chapati, cover with another, press and seal the edge properly.

Roll out lightly or press out a little with hands, taking care to keep the edges sealed. Shallow fry on medium heat till light brown on both sides.