Panch Shakni Dhokli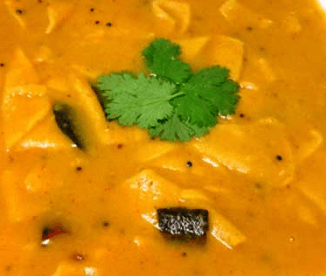 You will need –
2 cups tur (red gram) dal, 1/2 cup bengal gram dal, 100 gms. each – vegetable marrow, pumpkin, shelled peas, cucumber, ripe tomatoes, 1 lemon size ball of tamarind, 2 tblsp. jaggery, 4 green chillies, 1 1/2 inch ginger. 1 1/2 cups whole wheat flour, salt, chilli powder to taste, 1/2 tsp. turmeric, 1 tblsp. dhana-jira powder, 4 tblsp. oil, 4 cloves, 2 one inch pieces of cinnamon, 1 dry red chilli.
Method:
Pressure cook both the dals together. Remove and transfer the cooked dal to a big vessel. Cut all the vegetables in small pieces and add them to the dal, along with ground ginger and chillies. Pour enough water to make a thin mixture and bring to a boil. Reduce the heat and keep boiling till vegetables get cooked. Soak the tamarind in warm water for half an hour. Extract the juice, and add to the mixture, along with jaggery, salt and turmeric.
Add salt, chilli powder, turmeric, dhana-jira powder, and 2-1/2  tblsp. oil to the flour and make a stiff dough. Knead well and divide into 6 balls. Roll out each ball to the thickness of a chapati. Cut into small rectangles and add these pieces to the boiling dal. Cook for 10 minutes after putting in all the dhokli pieces. Remove. Heat the remaining oil, add cloves and cinnamon and dry chilli pieces and pour over the dhokli. Mix well and keep aside, covered, for half an hour. Then serve, heated again or as such, with ghee or raw oil, as desired. The dal dhokli should be thick, but of a pouring consistency.