Pataudi/Patwad/Besan ki Sabji Recipe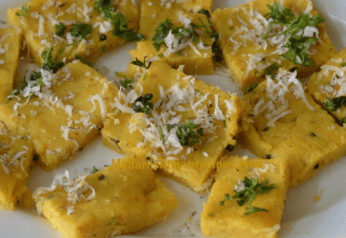 Patwadi preparation from western India; tasty, easily and quickly made.It is typical Marathi recipe and it is a best recipe for monsoon season. This is also called Pataudi / Patawadi chi Rassa Bhaji and some called it besan ki sabji.
  Ingredients
1 cup beasn (gram flour)

1 cup sour buttermilk

Salt and chili powder to taste

1/2 tsp turmeric

1-1/2 tbsp oil

1/2 tsp mustard seeds

A pinch of asafoetida

1 green chili

Chopped coriander leaves and grated coconut (fresh or dry) for garnishing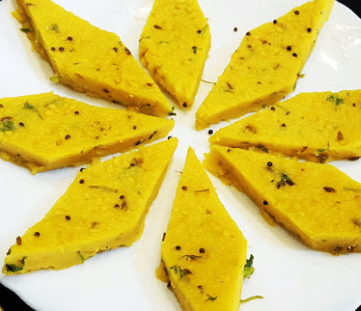 Method:
Mix the gram flour, buttermilk, salt and chili powder with two cups of water, churning well, so that no lumps remain

Keep a big flat thali (or metal tray) ready, lightly greased, though the greasing is not really necessary.

Put the mixture on flame, keep medium heat and stir continuously till the mixture thickens and starts leaving the sides of the pan.

Pour it in the tray. Tilt the tray around to help the mixture spread evenly.

Heat the oil, add mustard seeds, chopped green chili, asafoetida and turmeric and pour on the spread mixture.

Garnish with coriander leaves and coconut.

To serve, cut into small (1-1/2 inch) squares and remove in a serving bowl.