Mutton Bangladeshi Recipe in English, Bengali Recipes
Mutton Bangladeshi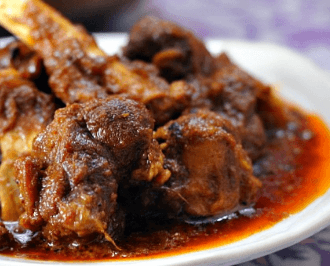 You will need –
25 kg. mutton

3 large sized onions

8 petals garlic

3/4 to 1 cup oil

1/2 tsp. turmeric

2 bay leaves

1/2 tsp. sugar

6 cloves

8 pepper corns

salt and chili powder to taste

1/2 cup curd

1 lemon

2 green chilies.
Method:
Crush the garlic and slice the onions very thinly. Heat the oil and keeping the heat full on, drop the meat pieces in the oil, fry till brown on all sides (use a deep and roomy pan).

Remove the meat and keep aside. Add the garlic to the oil, and then add the onions. Fry till the onions are golden brown.

Remove the onions, pressing out as much oil as possible and keep the onions with the meat.

Reduce the heat and add the turmeric to the oil. When the turmeric smell rises, add the sugar, by leaves and pepper corns. Let the sugar turn brown.

Now return the onions and meat to the pan. Add salt and chili powder and a cup of water. Mix well. Keep low heat and cook, covered with water on the lid.

Stir once in a while. When almost done, add lemon juice, beaten curd and two whole green chilies. Simmer until done.