Parsi Style Tomato Eggs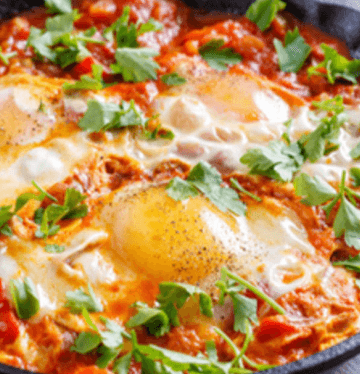 This is a popular dish of the Parsi community, and is an excellent accompaniment to Phulkas.
You will need –
8 eggs, 500 gms. ripe tomatoes, 3 medium sized onions, 3 1/4 inch ginger, 8 petals garlic, salt and chilli powder to taste, 2 tsp. sugar, 1 tblsp. dhana-jira powder (optional), 3 tblsp. oil or ghee.
Method:
Blanch and chop the tomatoes finely. Mince the onion grind the garlic and ginger. Beat the eggs, add salt. Heat the oil in a broad shallow pan; fry the onions in it, on medium heat till they are light brown. Add the garlic ginger paste, fry them, and add the tomatoes. Lower the heat and keep stirring till the mixture becomes pulpy; sprinkle a little water if necessary. Add the sugar, chilli powder. Mix and spread the mixture evenly in the pan. Pour the beaten eggs over this, cover and cook on very low heat till the eggs set. Cut into pieces and serve.