Homemade Naan Recipe in Oven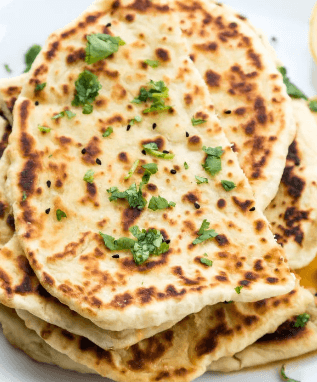 Unlike most Indian breads, naan is made with plain flour and bound into pliable dough with natural yogurt.
SERVES 4 · PREPARATION TIME 24 HOURS · COOKING TIME 10–12 MINUTES
Ingredients
275 g/10 oz plain flour (2¼ cups all-purpose flour)

4 tablespoons natural yogurt

1 egg, lightly beaten

½ teaspoon baking powder

1 tablespoon oil

1 teaspoon salt

1 tablespoon poppy seeds

Small pinch bicarbonate of soda (baking soda)
Method
Sift the flour, baking powder, salt and bicarbonate of soda into a bowl. Lightly beat the yogurt and add it to the dry ingredients with the egg and oil.
Knead the mixture into a fairly stiff dough, adding a little extra yogurt if necessary. Cover the dough with a clean damp cloth and leave it in a warm place for 2-3 hours, by which time it should almost have doubled in size. Knead the dough lightly then break off pieces about the size of a large plum and roll them out into 15-cm/6-in circles.
Dampen one side of the naan and place them on a greased baking tray, dampened side down. Sprinkle a few poppy seeds on top and bake in a moderately hot oven (200 C, 400 F, Gas 6) for 10-12 minutes until small brown spots appear on the surface. Serve immediately as the naan tend to become a little rubbery when cold.