Puran Poli Recipe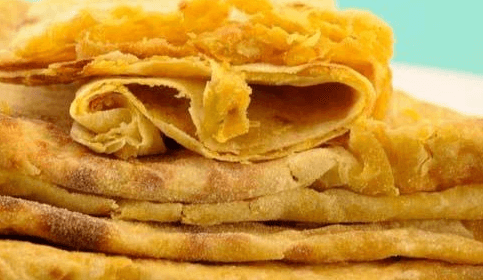 Ingredients
1-1/2 cup chana dal (bengal gram)

1-1/2 cup jaggery

2 cups finely sieved whole wheat flour

1-1/2 cup rice flour

8 cardamoms

1/8 jaiphal (nutmeg)
      (You can use half sugar and half Jaggery, or only sugar
       Similarly, you can use half maida (flour) and half whole wheat flour, ghee and oil)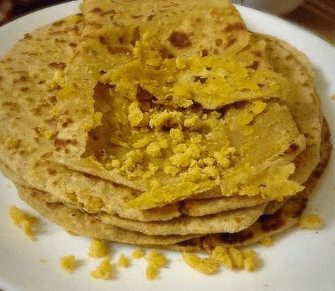 Method:
Pressure cook the dal (about 8 to 10 minutes with the pressure on).

Remove and drain off excess water. (This water makes an excellent Saar or can be used with advantage in any soup.)

Add jaggery to the dal, mix well and cook on a low heat, ull the jaggery mclts and the moisture evaporates.

Keep stirring often. If you find the dal-mixture cooked but too moist, pour it off on a thick cloth for 10 to 15 minutes to remove the excess moisture

Powder the nutmeg and cardamoms and add to the dal

Pass through a fine strainer to get a smooth, finely ground paste.

Make soft dough with the whole wheat flour, a pinch of salt and a little oil.

Knead well, sprinkle a little water and add a little oil every few minutes and go on kneading till the dough is very soft and pliable.

Pour a little oil and water in a vessel, place the dough on it and keep covered.

Take a very flat and heavy girdle for baking the Puranpoli.

If the girdle you have is not very thick, place an iron sheet underneath the girdle on the flame. Heat the girdle and keep the heat medium.

Take a walnut size portion of the dough and shape it like a cup.

Keep it on your palm and with the other hand, place double the amount of dal mixture (approx. double of the dough portion) on it.

Close on all sides, shape into a ball, and close the edges firmly.

Flatten a little. Roll out with the help of ample amount of rice flour, with very light hands into a thin round, approx 9 inches in diameter

Place rolling pin away from you, on the poli, fold that edge of the poli on the pin and roll towards you so that the poli is rolled round the rolling pin.

Lift carefully, place on the girdle at the edge away from you and unroll gently.

This way, the side which was upwards while rolling, will now be downwards on the girdle.

Bake on both sides; add a few drops of ghee while baking.

Fold in half and remove. Arrange in a tray and keep covered with a cloth.

Will make approx 14 puran polis

Serve with milk and ghee.