Zafrani/Zaffrani Pulao Recipe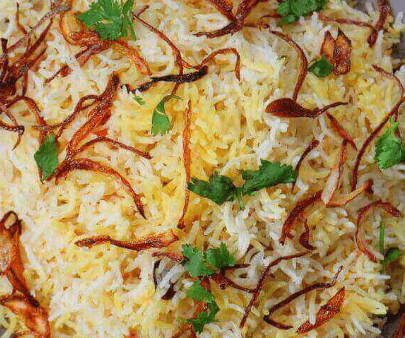 Pulao is traditional in Indian homes, my neighbors used to prepare the most delicious saffron pulao using dried fruits instead of meat or poultry. Serve as an accompaniment to meat or poultry curries.
Ingredients
450 g/1 lb (2 cups) Basmati rice

1 medium onion

2 tablespoons ghee

1 teaspoon black cumin seeds

2-5-cm/1-in stick cinnamon

1-2 black cardamoms

2-3 cloves

Bay leaf

½ teaspoon saffron strands

50 g/2 oz (1/2 cup) slivered almonds

25 g/1 oz green raisins or sultanas

(3 tablespoons white raisins)

About 750 ml/1-1/4 pints (3 cups) water

1 teaspoon salt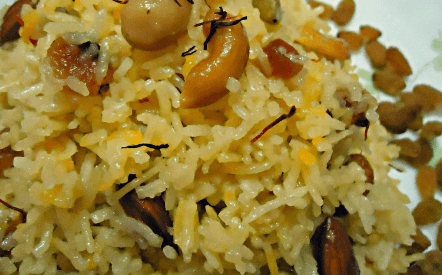 SERVES 4 · PREPARATION TIME 45 MINUTES · COOKING TIME 25-30 MINUTES
Method
Rinse the rice and soak it in fresh water for 30 minutes. Thinly slice the onion. Heat the ghee in a heavy-based saucepan; add the onion and all the spices except the saffron. Stir-fry until the onion turns golden brown. Add the almonds, raisins and well-drained rice and stir-fry for a further 5 minutes.
Soak the saffron in one tablespoon of water for a few minutes. Pour it over the rice together with enough water to cover to a depth of 2.5 cm/l in. Add the salt, stir well and bring to the boil. Reduce the heat, cover the pan closely and cook slowly for about 20 minutes until the rice is tender and fluffy and the water is absorbed. Fluff up the rice with a fork and serve immediately.