Aloo Methi Sabzi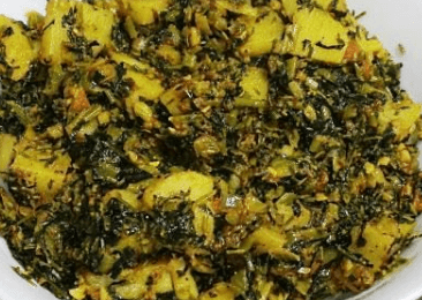 Fenugreek leaves can be bought either fresh or dried and both are delicious. Dried leaves should be soaked for at least 30 minutes before use. Small new potatoes are particularly good in this dish as their delicate the fenugreek leaves. Serve as an accompaniment to meat and poultry curries.
 SERVES 4 · PREPARATION TIME 20 MINUTES · COOKING TIME 30 MINUTES
Ingredients
225 g/8 oz (1/2 lb) fresh or 100g/4 oz (1/4 lb)

Salt to taste

Dried fenugreek leaves

Chili powder to taste

225 g/8 oz (1/2 lb) small new potatoes

1 teaspoon turmeric

2 tablespoons oil

150 ml/1/4 pint ( 2/3 cup) water

1 teaspoon ajwain (carom seeds)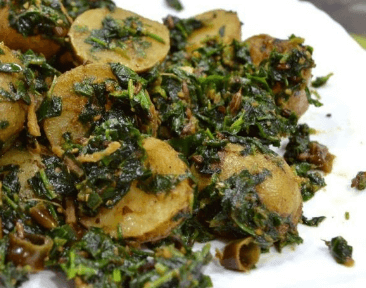 Wash fresh fenugreek leaves and shake them dry. If dried ones are used, soak them for 30 minutes, then strain and rinse them before use. Roughly chop the prepared leaves and their stalks. Scrub or scrape the potatoes and cut them into quarters.
Heat the oil in a heavy-based saucepan, sprinkle the ajwain seeds in and cook them quickly until they pop, then add the salt, chili powder and turmeric. Stir-fry for a few seconds before adding the fenugreek leaves and potatoes. Continue to stir-fry for 2-3 minutes to mix the ingredients thoroughly.
Pour in the water and bring it to the boil, then cover the pan and reduce the heat. Cook, stirring frequently, for 15 minutes until the potatoes are tender and all the excess moisture has evaporated. Transfer the vegetables to a warmed serving dish and serve immediately.