Brinjal Pickle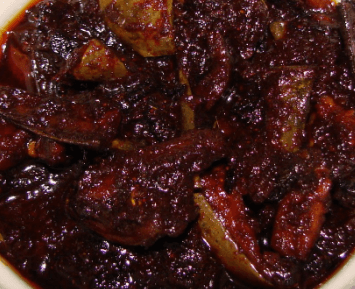 I am sure even brinjal-haters wouldn't recognize this. It's sweet-sour, garlicky and not at all complicated to make.
Ingredients
1 kg long brinjals washed and chopped in pieces

1 cup refined oil

2 pods garlic ground or chopped

2 piece of ginger, ground or chopped

2 tablespoons chili powder

1½ teaspoons cumin seeds

½ teaspoon mustard powder

1 teaspoon fenugreek seeds

1 teaspoon turmeric powder

2 cups vinegar (white)

1-1½ cups sugar (as per taste)

2 tablespoons salt
Utensils
A large, heavy-bottomed pan or karahi
Method
Soak the chili powder, cumin seeds, mustard powder, fenugreek seeds and turmeric powder in the vinegar for at least half an hour. Grind together.

Heat the oil in the pan and fry the ground spices and ginger and garlic in it for 10-15 minutes.

Add the salt and sugar.

Bring to the boil and add the brinjals. Stir well and continue to cook on a very slow fire till the brinjals are cooked and the mixture has thickened.

Cool, bottle and store in a dry place. "

The pickle is ready to serve immediately.